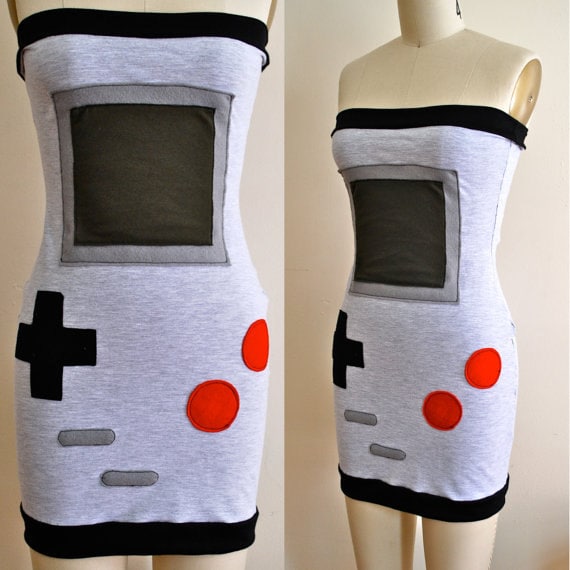 Shut Up And Take My Money is a brand-spanking new column where ANDPOP's online shopping addicts dish out on their best (and worst) buys. This week, ANDPOP's Jill Krajewski gets a Game Boy dress.
Somehow, I survived my childhood without being allowed to have a Game Boy.  No Pokemon, no Zelda, not even TETRIS. To make up for lost time, I decided to search Etsy furiously for some Game Boy-inspired fashion. It didn't take me long to stumble on this epic dress by the shop DEVO WEVO.
While other Game Boy dresses I lurked seemed too short, not well-sewn, or had one of the buttons awkwardly hovering over your crotch, DEVO WEVO's was just right. I first gulped at the $75 US price tag, but if it looked half as good on me as the mannequin pics, I figured it was worth it.
TOTALLY WORTH IT. Two weeks was a killer wait, but as soon as I tried it on, all my online shopping dreams came true. It's a flattering fit and the jersey knit material is super comfy. The felt on the buttons clump up after a while, so think about getting a sweater stone for light maintenance.
It's great to wear with leggings, tall boots, a leather jacket, or even on its own for a night out. Careful if you're dancing though – the elastic band at the top isn't incredibly tight so be prepared to do adjustments on the fly or in the bathroom. I found out the hard way at a concert with a date (whoops).
My overall rating?
Price: $75 (US)
Shop: DEVO WEVO
Pros: Comfy, fitted, unique, endless high-fives from strangers
Cons: Felt clumps up, not great for dancing, "touch your buttons" pick-up lines
Notes: The dress wasn't in stock last time I checked, so by all means ask the shop owner to make more!