Now more than ever we are seeing young stars who got their start on Broadway find their way onto the big screen.
But there's one Broadway show that seems to be the breeding ground for young actors and actresses: Duncan Sheik's Spring Awakening. While it is common to see one star rise above the rest, majority of the Broadway stars who have landed roles in Spring Awakening went on to achieve wide recognition. Basically, if you don't know who Lea Michele is, you probably live under a rock, and I pity you.
Read Below to learn more about your favorite stars who have been in Spring Awakening.
Lea Michele
 While Lea Michele has been in Les Misérables and Ragtime as a child, but she broke through when starred in Spring Awakening. In Spring Awakening, Lea Michele's character Wendla Bergman bares her breast, has an abortion, and dies. A little heavy for a high school student (Michele was 17 when the show made it to the stage), but it paid off after Glee producer Ryan Murphy spotted her in the show. Murphy initially casted Jonathan Groff for his pilot of Pretty/Handsome, and naturally Groff introduced Murphy to Michele. The rest is history. Lea Michele has rose to fame as Rachel Berry on Glee, and snagged award nominations and a new boyfriend in the process. Lea Michele and her indescribable voice has found her way from the stage to the screen, and we are so lucky it did because this way her voice now raises goose bumps on a weekly basis.
Skylar Astin
Skylar Astin took television and film by storm this year when he starred in Pitch Perfect and landed a guest role on Lena Dunham's Girls. Since Pitch Perfect, his popularity sky rocked as the movie has built itself an almost a cult-like fan base. He most recently starred in 21 and Over, which many have described as the college version of The Hangover. Before breaking out in comedy, Astin started as Georg in Spring Awakening alongside Lea Michele and the rest of the gang. It's become common knowledge that Spring Awakening gang are still incredibly tight knit. Lea Michele is constantly tweeting about Astin's new projects, and has been campaigning to get him on Glee. It worked for Jonathan Groff, so keep your fingers crossed for a Astin guest spot on Glee.
Jonathan Groff
If you follow Lea Michele on twitter or watch her interviews frequently (like I do) you know that Jonathan Groff is her best friend. The two last worked together on Glee, as Jonathan Groff has a recurring role as Jesse St James. The two first met while doing Spring Awakening. Groff played Melchior Gabor, the male lead opposite Lea Michele. While he still does theatre, Groff has now made a name for himself in Hollywood through recurring roles in shows like Boss, The Good Wife, and One Life to Live. In addition, Groff is currently dating Star Trek and American Horror Story star Zachary Quinto. Nice life, Groff. Want to share?
 Johnny Gallagher
After originated the role of Moritz in Spring Awakening on Broadway, Johnny Gallagher went on to star in the original production of American Idiot. With Broadway experience under his belt, Gallagher rode his fame all the way to HBO's The Newsroom. In The Newsroom, Gallagher plays Jim, the senior producer of a highly rated news network program. 
Jenna Ushkowitz
It's starting to feel like Spring Awakening was the breeding ground for future Glee cast members. Jenna Ushkowitz and Lea Michele have clearly been working together for a very long time. This makes Tina and Rachel scenes that much sweeter. In Spring Awakening Ushkowitz was a "swing." This means she didn't have a set part, but she did need to know the lines and choreography for several roles. During her time with Spring Awakening, she went on to play four key female roles, including the main character Ilse. Ushkowitz recently finished writing her memoir titled Choosing Glee. Actress, author, and girlfriend of Vampire Diaries star Michael Trevino, Jenna Ushkowitz has successfully made a name for herself in Hollywood.
 Iwan Rheon
Iwan Rheon played Moritz Stiefel in the London production of Spring Awakening. Unsurprisingly, after his time in the play, Rheon went on to have major roles in huge television shows. For three seasons he played Simon Bellamy in the British show Misfits where a group of kids with super power sentenced to do community service. It sounds ridiculous, but it is actually a brilliant show. Audiences can catch Rheon next as Ramsay Snow in the upcoming third season of The Game of Thrones. Rheon is also a musician and he released an EP titled Changing Times.
 Andy Meintus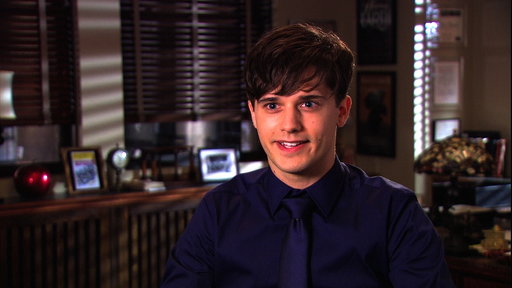 Since playing Hanschen in the national tour cast of Spring Awakening, Andy Meintus finally got big break when he landed the role of Kyle on Smash. On the show, Kyle is the writing partner of another new character Jimmy (Played by yet another Broadway alum, Jeremy Jordan). Meintus has quickly become a fan favourite with his singing. While the show might be coming to its end, but it's all up hill from here for Meintus who finally had the chance to show off his many talents to a bigger audience.