It seems like just yesterday that Glee celebrated its 30o's musical number with that Adele mashup of "Someone Like You," and "Rumour Has It." We just couldn't. Stop. Listening. Now, Glee has released "Shout," its 500th musical number, from the upcoming episode "Boys (and Girls) on Film."
This episode pays a homage to the music from movies that include Footloose, Top Gun, and Animal House.
Of course, Glee fans are most excited about Kurt and Blaine's reconstruction of Moulin Rouge's "Come What May." In fact, fans wanted the duo to sing this song so badly that Glee creator Ryan Murphy tried to get a petition going to get One million dollars from his fans, as incentive to write the song in.
Troll Murphy, I bow down to you and your sass, and thank you for answering your fans prayers. You have a big heart.
In honour of the shows 500th music number, ANDPOP wants to look back at Glee's 5 greatest tribute episodes.
1) Glease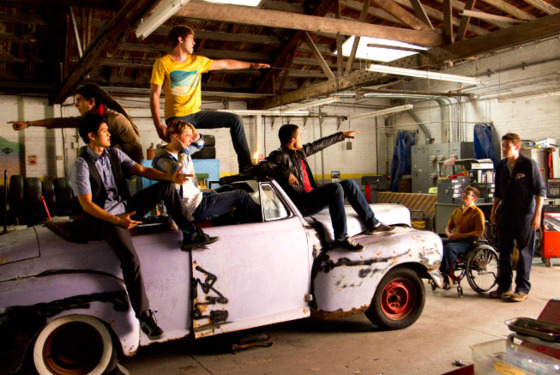 Behind the veil of Mckinley High doing another school musical, Glee had an entire episode (and a half if you count the one before hand) dedicated to the music of hit musical, Grease. The musical's iconic songs matched the show's plot extremely well; having Blaine sing "hoplessly devoted to you" in reaction to his break up with Kurt was very clever and well done, as was tying in Rachel and Finn with "You're the One that I Want." Finchel flashbacks have a special place in my heart.
Stand out song: Grease Lightning
2) Britney 2.0
This tribute episode didn't only honour the music of Britney Spears, but also the pop star's past. The episode centered around Brittany following Britney Spears' path. The character was ready to shave her hair following a less than tasteful performance of "Gimme More."
Stand out song: Crazy/ You Drive me Crazy
3) Saturday Night Glee-ver
When Glee took on the soundtrack of Saturday Night Fever, they did it with authenticity. They did it with falsetto (who knew that about you, Cory Monteith? Who knew?), dancing, and costumes, all reflective of the iconic John Travolta film.
Stand out song: Disco Inferno
4) The Power of Madonna 
Take a trip back to Glee's first season,and  you will find its first tribute episode. It had mashups, music video recreations, and Will Shuester jokes. It was perfect in every way. I was singing the "Borderline/Open Your Heart" mash-up until I was blue in the face for weeks after this episode. Did I mention this was the first time Jane Lynch sang on Glee?
Stand out song: Vogue
5) Michael
This tribute episode of Glee's featured one of it's best acoustic covers, epic dance numbers, and a phenomenal recreation of the "Scream" music video. They picked some of the greatest Michael Jackson songs and in my opinion, did them justice. The dancing was amazing, and the covers were very impressive. Kevin Mchale needs to always cover Michael Jackson.
Stand out song: Smooth Criminal