Kanye West's reaction to his number seven spot on MTV's Hottest MC list was less than sobering. The star was appeared on a radio show on Tuesday night where he said the following:
What happens with these type of judges and people who are viewers, when you come in, I had the pink polo and the backpack, then I'm checking all the boxes for that Tribe Called Quest-era and J Dilla and all that, so they champion it. They don't like Givenchy Kanye. They don't like Kanye in a kilt. They don't like Kanye in a relationship.
Luckily for us, we really don't care what Kanye West's reaction is. We just like talking about him in anyway that we can.
Remember when that dude from reddit photoshopped him sitting next to Kanye West on a plane? Well, guess what? I'm putting us back onto that hypothetical airplane (we all know he would never fly commercial) so we can all spend just a little more time bugging the shit out of Kanye West.
But first, press play:
You need to get yourself ready to imagine a) just how exactly you ended up sitting next to Yeezy and b) how angry he'll be to not only be flying commercial, but sitting next to you. Or me if you're still afraid to start beef with imaginary Kanye. Chicken.
So again, here's what not to say to Kanye West Part II:
1. Every time he speaks, interrupt him with "I'm a let you finish but…" See how many times you could do that before you get air marshaled for harassment
2. Convince him to replicate the opening sequence of the Lion King when his baby is born
[youtube http://www.youtube.com/watch?v=HwSKkKrUzUk]
You don't know how badly I want this to happen in real life.
3. Try to awkwardly bro-hug him circa John Mayer 2008/his Jesus chain days
[youtube http://youtu.be/n_z-shZL1KU?t=17s]
4. Make a list of inspiring words together for him to tweet
5. Ask him what was this thing from his mini movie, We Were Once A Fairy Tale
6. Show him the Aziz Ansari faceswap
7. Pitch your DONDA ideas to him
8. Have a talk with him about Kim Kardashian's ugly wardrobe ("I thought you were supposed to be a good influence…")
9. Console him on his failed Womenswear line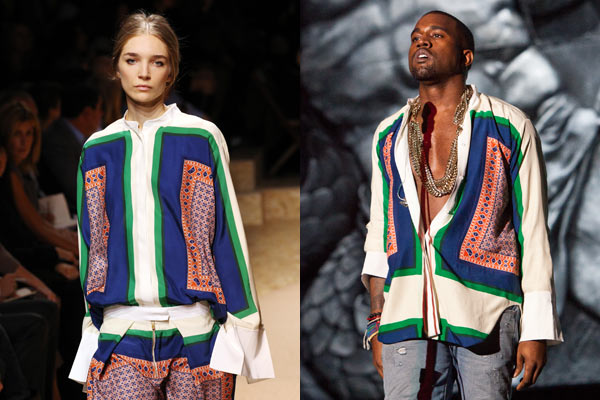 10. Try to talk to him about menswear and street style bloggins (What's Scott Schuman like? Is Nick Wooster really that dope looking in person?)
 BONUS: Ask him if he's Jesus? I'm sure his ego will love that.
Ten points to you if you imagined yourself on a plane heading for Paris.