I was seven when I first saw Beyoncé sing and shake on TV.  Even though she shared the stage with the three other members of Destiny's Child back then, it was clear that Bey was the queen. With her doc Life Is But a Dream finally giving us a glimpse into her personal life, let's check out the R&B diva's evolution from talent show to Super Bowl show-stopper.
Destiny's child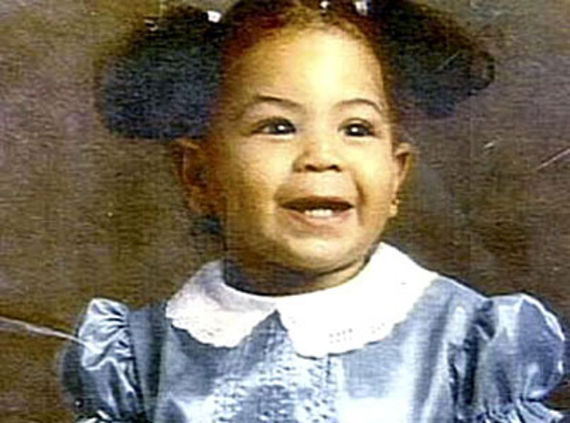 Beyoncé Giselle Knowles was born in Houston, Texas on September 4, 1981. Even though we've been saying Bey's fabulous name for years, her family only let us in on its origin at the Life Is But a Dream premiere. Turns out it comes from her mom's maiden name Beyince. Luckily for us, Beyoncé definitely has way more diva-worthy oomph.
She sang everywhere she could
One school play was all it took for little Bey to fall in love with acting, music and dancing. She became a choir and talent show queen, out-singing older kids and getting standing ovations since she was seven. Check out this clip to see eight-year-old Beyoncé werking a talent show in 1989!
First girl group!
Nine-year-old Beyoncé formed the group Girls Tyme with her cousin and future Destiny's Child BFF, Kelly Rowland in 1990. The R&B gang included original DC members LeToya Luckett and LaTavia Roberson. The girls perfected their dance moves in Beyoncé's backyard when they weren't wowing talent show crowds.
She wasn't afraid to rock the stage
[youtube http://www.youtube.com/watch?v=jfSQWch877c?rel=0]
Beyoncé killed her first major TV show performance in 1993 at  the age of 12 on Star Search, a '90s American Idol for kids. Even though she and Girls Tyme didn't win, you can totally see where Destiny's Child's bold fashion, smooth harmonies and fierce attitude came from.
First hit!
[youtube http://www.youtube.com/watch?v=XQtoCz9dIJQ?rel=0]
By 1998, Girls Tyme grew up into Destiny's Child, got a record deal, and released their first single "No, No, No." The catchy track about relationship dramz launched 17-year-old Beyoncé and her crew into the spotlight, but not without DC going through dramz of their own.
She's a shake-up survivor
Three years of public catfights and lawsuits later, Destiny's Child was reborn as a trio in 2001 with Beyoncé, Kelly Rowland and Michelle Williams in the mix. At 21, Beyoncé and DC walked away with two awards each at their first Grammys for their smash hit "Say My Name." "Survivor," "Bootylicious," and "Independent Women" are also required listening for worshiping Queen B.
She runs the world
At 31, Beyoncé has it all. Her rap mogul hubby Jay-Z, their adorable baby Blue Ivy, 17 Grammys, millions of solo albums sold, a Super Bowl Halftime show to remember…okay, you get the picture. Bey is here to stay. As newsman Anderson Cooper said, this is Beyoncé's world. We're just lucky enough to be living in it.