After watching Justin Timberlake class up the Grammys last night with his suited-up moves and one-listen-will-make-you-pregnant voice, I'd say JT is once again the hottest Justin the world. As we eagerly await his comeback album,  let's have our own 20/20 Experience into his old school days with these vintage pics and clips of lil Justin.
He's a country kid
Justin Randall Timberlake was born in Memphis, Tennessee on January 31, 1981. His middle name comes from papa Timberlake, a church choir director who got Justin hooked on country tunes growing up. It didn't take long for Justin to start belting Memphis saloon songs either…
His cute TV debut!
Before "Suit & Tie," JT was all about cowboy duds and country twang. He made his  TV debut at 11 on Star Search – a 90s American Idol for kids — in 1992. Even with a hat that looks like it could swallow him whole, he wowed the crowd with his take on the country tune "Love's Got A Hold On You."
He grew up with tons of celebs
What do JT, Ryan Gosling, Britney Spears and Christina Aguilera have in common? Aside from running the world, they all sang, danced and did dorky comedy skits on The New Mickey Mouse Club. Justin "'90s Jazz Hands" Timberlake joined the TV show when he was 12 in 1993.
He goofed off with Ryan Gosling
Justin stole scenes on the Disney show until he was 13, including this adorable show opener from 1994. You'll die after watching this clip of Justin and 13-year-old Ryan Gosling brainstorming how to have the coolest band name ever. And umm… notice how loosely they throw around the word 'terrorism.'
He had a boy band before 1D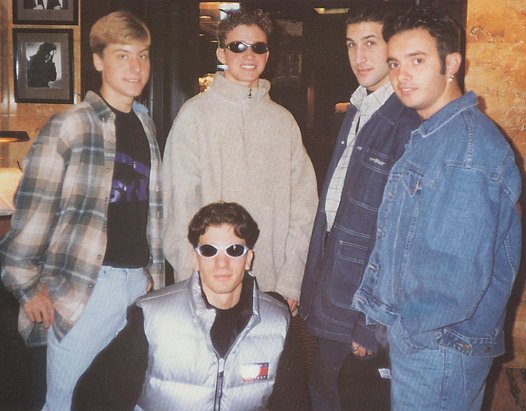 The Mickey Mouse Club was also where Justin met future *NSYNC bandmate JC Chasez (bottom). The two left the show together and formed *NSYNC  in 1995 when Justin was 14.  Mama Timberlake gave the boy band their name after saying she loved how – wait for it – "in sync" they sounded.
He busted moves in space
JT's first music video! *NSYNC's  debut single "I Want You Back" came out when he was 15 in 1996. My best understanding of the plot is that Justin and the boys are trapped in a space station but they can't get the teleporter working, so they decide to dance?
Always bringing sexy back
Since then, Justin has taken the world by storm again and again. First with *NSYNC, then with his swoon-worthy solo career, then as a big-screen actor in films like The Social Network. With six Grammys and four Emmys under his belt, there's no stopping this 32-year-old from turning everything he touches into pop gold.