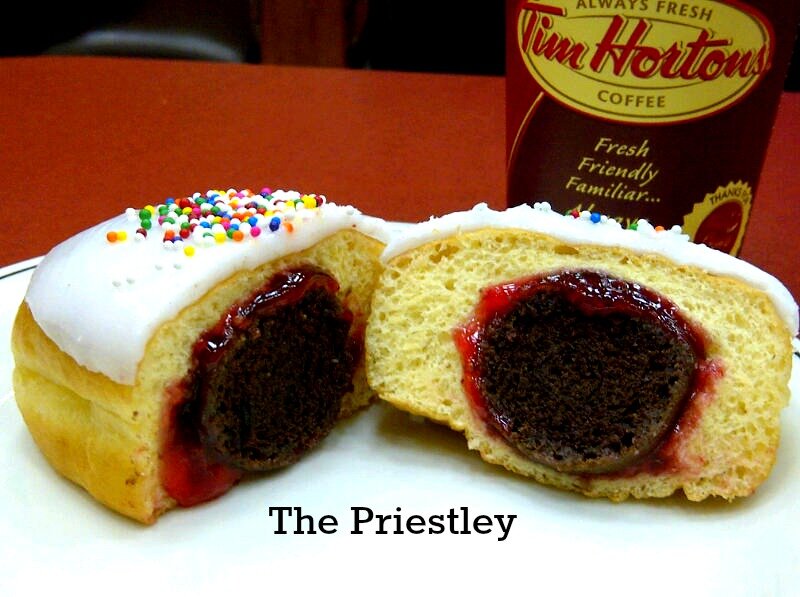 In last night's episode of How I Met Your Mother, Barney made another trip to good ol' Canada to find out who his fiancé, Robin, was obsessed with.
The episode mentioned some great Canadian staples like The Grey Cup, MuchMusic, and most importantly, Barney paid a visited to a Tim Horton's (which, by the way, was eerily actually spot on, fake plants and all).
The episode also included another look at Robin's former life as the Canadian popstar known as Robin Sparkles. Though according to the Behind the Music-like episode of Under the Tunes, Robin's transformation from bubble-gum pop to the grunge singer Robin Daggers at the 1996 Grey Cup was a moment nobody forgot, a moment where any Canadian could tell you exactly which Tim Horton's they were in and what doughnut they were eating at the time.
It was the day actor Jason Priestley crammed a timbit into a strawberry vanilla doughnut, which he called "The Priestley."
Well, it seems like someone at Tim Hortons is a HIMYM fan as they recreated "The Priestley" and tweeted it at the actor himself.
.@Jason_Priestley, we loved the idea of 'The Priestley' so much, we made a batch. A Timbit IN a donut? Genius. #HIMYM pic.twitter.com/G0imeqhe

— Tim Hortons (@TimHortons) February 5, 2013
Thanks! We were inspired! MT @Jason_Priestley: Thnx Tim Hortons! Proudest day of my life! A donut named after me at Timmie's? #bestdayever

— Tim Hortons (@TimHortons) February 5, 2013
I hope the Priestley actually becomes a thing at all Tim Hortons locations because that is a gorgeous specimen (ahem, Dunkin' Doughnuts) and I would definitely order a half dozen for myself, thank you very much.