In the world of celebrity news, there's no shortage of hits and misses. This week, Selena Gomez practically tells us who her favourite One Directioner is and Chris Brown gets into a fight with Frank Ocean.
HIT: Selena Gomez would kiss Zayn from One Direction
Single Selena Gomez recently dished to Extra! that she wouldn't mind stealing a smooch from One Direction's Zayn Malik. Doesn't that sound like a great new relationship? She's single, he's s— oh, no. No, he is not single but I wouldn't be surprise if he were currently headed for one considering his recently cheating scandal. Malik (who's attached to pop star Perrie Edwards) had a one-night stand with a waitress. Oooooh! Can't wait to see how this plays out!
MISS: Chris Brown and Frank Ocean got into a fight
Chris Brown can't seem to stay out of trouble as the village idiot picked a fight with fellow Grammy nominee, Frank Ocean. The confrontation allegedly escalated when Ocean left Brown's handshake hanging or over a parking space. Ocean and Brown acknowledged the scuffle on the Internet in their own respective ways. Ocean tweeted the incident and added, ""Cut my finger now I can't play w/two hands at the Grammys," while Brown practically compared himself to Jesus on the cross on Instagram. Brown has since made his account on the photo sharing website private and is currently under investigation. GO TEAM OCEAN!
HIT: Bradley Cooper took off his shirt at a spin class causing women to fall off their bikes
In his quest of perpetual handsomeness, current best actor nominee Bradley Cooper hit up a spin class in New York City for a quick work out and caused a lot of women to fall off their bikes. According to the New York Post, the actor tried to be incognito and wore a long sleeved shirt for most of the class until he decided to whip it off at the very end. The Post's sources said at that point "girls were literally falling off their bikes," but "he was super gracious" to the fans that had the courage to say hello after class. I hope someone took the opportunity to ask him out because he is single.
MISS: Justin Bieber fondles a fan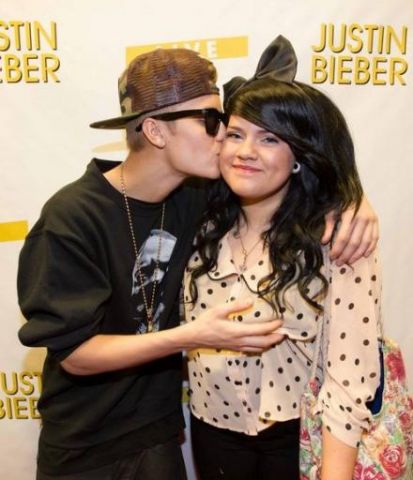 Justin Bieber is starting to make me really sad as he continues to go on some downward spiral post-Selena break-up. First he Instagrammed his ass-crack and now there's a photo of the star groping a fan in Miami on his official fan page. Even if the fan did ask him to touch her inappropriately (which she says she didn't), shouldn't he know by now that, with his young fan base, he really shouldn't be touching his fans that way? You just missed her waist by a lot. WATCH YOUR HANDS, BOY!
HIT: Ask Tina (Fey): Did you go to there?
Hit play and please pass me a box of tissues. Guess who's going to be wreck while watching the 30 Rock series finale? I am!
MISS: Lindsay Lohan missed her day in court because she was "sick," went shopping instead
Lindsay Lohan avoided another day in court by calling in sick claiming that was too feeble to fly from New York to Los Angeles for her mandatory court hearing on Wednesday morning. It didn't appear that she was too sick when the paps caught her shopping in New York City's SoHo neighborhood over the weekend. Upon hearing the story, I experienced the same kind of frustration I normally go through when reality stars tell each other secrets that end with "don't tell anyone" IN FRONT OF THE ROLLING CAMERAS. What's even more frustrating is the hurt face they put on when their secret comes out which causes me to scream, "NO SHIT, SHERLOCK!" at my TV. At least Lohan got the clue and jumped on red eye to make it to L.A. just in time for her hearing.