She may not be on daytime television anymore, but Oprah Winfrey continues to show us why she was the reigning Queen of the prolific talk show format on Oprah's Next Chapter. 
In her latest not-Oprah-Winfrey-Show special, the big O (stop it with your dirty minds) managed to crack open Lance Armstrong. The disgraced cycling star readily confessed to all the doping allegations that have been shoveled on him for almost a decade.
Armstrong isn't the only star to have confessed to all the years of lies and debauchery on Oprah's couch (or non-couch for those still watching post-"retired" Oprah party). For some reason, Oprah was the go-to-person for celebrities who finally wanted to escape from their emotional burden. To be fair, Oprah is no Jay Leno; she doesn't let her guests off that easily. But they could've gone to Barbara Walters or Peter Mansbridge (if they were Canadian) for some tough love.
Maybe the source of all of Oprah's truth-pulling abilities come from her kind eyes and warm voice. Seriously, would you be able to lie to this face?
This also happens to be the woman who has given away millions of dollars of free gifts, cars (YOU GET A CAR! YOU GET A CAR! YOU GET A CAR!), trips to Australia and makeovers. Not to mention, the lady has been running her own network of charities for years. If that doesn't give you enough reasons to break down in front of Oprah and purge yourself of all the lies and deceit you wouldn't tell your own priest. When you think about it in that way, it kind of sounds like Oprah is God.
In any case, here are just a few of the celebrities that have fallen to possibly holier than thou power of Ms. Oprah Winfrey.
1. Rihanna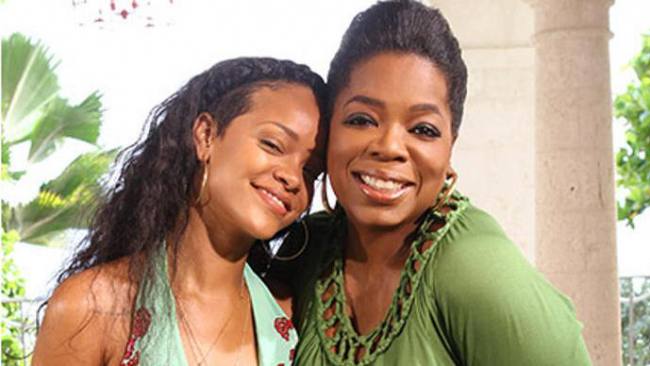 Last August, the Babe from Barbados confessed to Oprah that Chris Brown was the love of her life. It was the basically the Earth-shattering confession that no one wanted to hear considering Brown beat her face to a pulp right before the 2009 Grammys. Rihanna most likely felt at ease confessing to Oprah as she apparently had no opinion on the controversial re-pairing. Are we taking note, J-School undergrads?
2. Tom Cruise

Tom Cruise's now tragic relationship with Katie Holmes will forever be defined by the moment Cruise lost it on Oprah's couch. You could tell he was so bursting with love due to his new relationship but it took Oprah to unlatch the crazy that was in him and would forever change the star. Think about it. Pre-couch jumping incident, Cruise was the most bankable action star. But after he took that leap of faith on Oprah's stage, he suddenly became this controlling, Scientology nut job. Cruises' now recuperating public figure can only be attributed to the nice stories his co-stars have been spreading. Wrapping up a scene to get Bill Hader onto a plane to see his family? The ultimate "aww" inducing story.
3. The Kardashians
Besides getting Kim Kardashian to spill on her relationship with Kanye West, Oprah had Kris Jenner come clean on who her favourite child was (Kim obviously). BUT ISN'T THE UNWRITTEN RULE OF MOTHERHOOD NOT SAY WHO YOUR FAVOURITE CHILD IS? SHAME ON YOU, KRIS. SHAME!
4. James Frey
Since his first appearance on The Oprah Winfrey Show in 2003, author James Frey was lambasted with accusations that he completely fabricated his memoir, A Million Little Pieces. Frey finally came clean when he was invited back onto the show to confront the allegations. Considering Oprah herself endorsed his book, he probably felt compelled to confess to his crimes after seeing the talk show queen completely embarrassed about the whole ordeal.