HIT: The 2013 Golden Globes Award Show
This year's Golden Globes can only be described as "perfection," and here's only some of the reasons why:
Tina Fey and Amy Poehler are the perfect hosts
Kristen Wiig and Will Ferrell's presenter improvisation
Ben Affleck winning all awards. Academy members must feel like idiots right about now.
Tommy Lee Jones' "not amused" face
Mel Gibson's "confused" face
Taylor Swift's face when Adele won best orginal song (seriously, how did you not see that coming?)
Jodie Foster's award speech
And finally, Amy Poehler on George Clooney's lap
Seriously, best awards show. Ever.
MISS: Twitter reactions to Jennifer Lawrence's acceptance speech
Twitter went a little crazy when our lovely J-Law started her speech with "What does it say? I beat Meryl!" The backlash was a bit disappointing considering I saw it coming from some prominent industry figures (and Lindsay Lohan) because you'd think they know that J-Law was simply quoting the 1996 movie, The First Wives Club. Unfortunately, she had to explain the joke to everyone who's not on Tumblr while on Late Night with David Letterman on Tuesday night. While her on-stage joke may not have gotten the reception she was looking for, she will have the chance to try again when she hosts Saturday Night Live this weekend.
HIT: One Direction visits Ghana for charity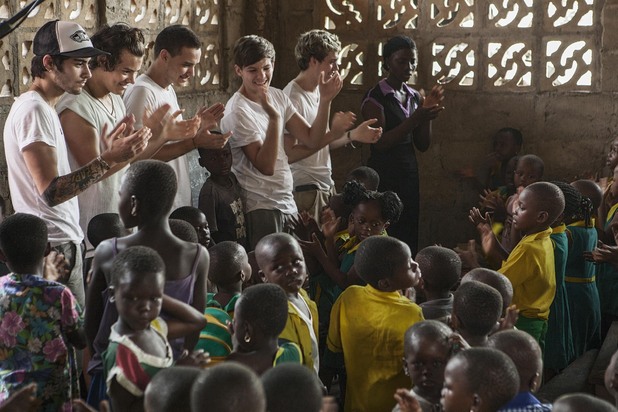 One Direction is currently in Ghana in support of the U.K. charity, Comic Relief. The five visited Accra, the country's capital, to meet people who have received donations and support from the charity. While the boys are doing a very nice thing, we do hope they don't over-generalize the living conditions in Ghana. Hopefully, their world travels have taught them to see both sides of every place so those stuck at home (a.k.a. me) can see the natural beauty of Ghana.
MISS: Britney Spears quits The X-Factor and her engagement
Right after calling it quits on The X-Factor, Britney Spears has also called off her one-year engagement with her now ex-manager, Jason Trawick. Considering there hasn't been a well-publicized breakdown or lover's spat, many tabloids and conspiracy theorists wondering if it was all a clever ploy by Spears' father and conservator, Jamie Spears. While Spears barely has control over her own life, we hope that the decision was made with her best interests in mind and we will definitely miss seeing the singer's hilarious facial expressions on TV.
HIT: New York Times Magazine's Lindsay Lohan profile
The New York Times Magazine contributing writer Stephen Rodrick may have written the best entertainment story I've read in a very long while. Rodrick's unprecedented behind the scene access on the set of future Razzie award winner, The Canyons, also afforded the writer access to Lindsay Lohan. Rodrick's description of Lohan reads like a tragic hero who continues to destroy herself. If you have nothing to do on a Sunday, I highly suggest reading this article and I hope you enjoy.
MISS: Jessica Simpson gets a new show
The incredibly pregnant Jessica Simpson just announced that she will star in an upcoming NBC sitcom loosely based on her life. Actors will be brought in to play her dad/manager, Joe, and financé, Eric Johnson. I, for one, think this is a terrible idea. Simpson's acting abilities are (to be nice) lacking and if there's a "chicken or fish" episode, I might just throw my TV out the window.