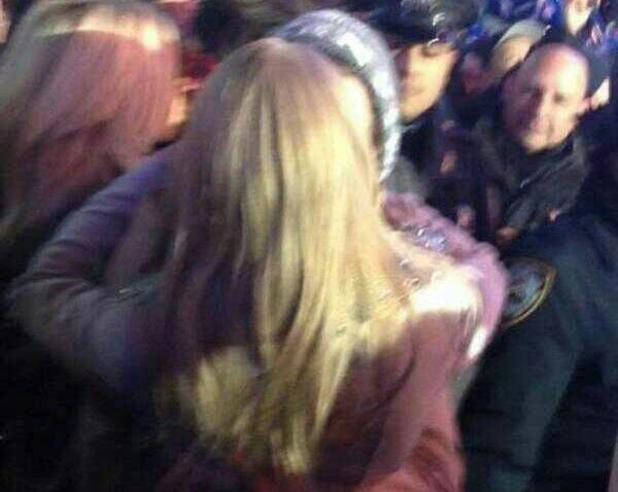 In non-news, "Haylor," known formerly as Taylor Swift and Harry Styles, rang in the New Year with a glorious kiss in New York's Time Square on Monday. Then I'm pretty sure (though it's unconfirmed) that she morphed into a winged unicorn and floated into the sky since she's clearly not living a human life. At the very least, some movie studio has been pranking us all these years by filming her life for an upcoming chick flick about a "regular country girl" who moves to Hollywood, becomes an amazing role model and starts dating a curly-haired dreamboat.
Swift performed "I Knew You Were Trouble" and "We Are Never Ever Getting Back Together" at "Dick Clark's New Year's Rockin' Eve with Ryan Seacrest." Her kiss inspired supportive fans to get the hashtag #WeRespectHaylor trending on Twitter.
To be honest, I'm still not fully convinced the relationship is serious because I'm used to celeb couples (Andrew Garfield and Emma Stone, Miley Cyrus and Liam Hemsworth and Jelena in the early days) shying away from the media instead of leading a parade down Central Park.
Meanwhile, the guys from One Direction took  time from their busy schedules to wish Directioners a happy New Year, however, the comment ruling all others right now is wishful thinking: "They exchanged a look and suddenly one of them shied away and the other's sullen face showed a hint of amusement. You know who I'm talking about! ;)"
The best part of any One Direction video is the subtle deconstruction of every word, look and expression the guys give from commenters — even if the video is only 11 seconds. In this case, "they" means Harry and Louis… aren't we over the whole Larry Stylinson thing people? They've both got special ladies of their own now.
What do you think of Haylor's relationship? Do you think it's real? Are you sick of hearing about it?
Watch it here