HIT: Spice Girls Musical Opens in London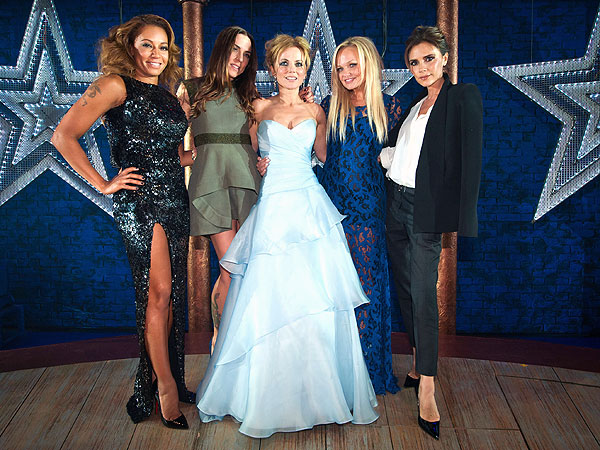 Viva Forever!, the musical based on the Spice Girls' greatest hits, opened in London on Tuesday night. I personally loved every little campy bit of 1998's Spice World even though it was a bomb with critics. With that being said, I can't help but still have high hopes for the musical even though it a) hasn't been getting the greatest reviews and b) doesn't star Sporty, Posh, Scary, Ginger and Baby. "Viva forever…"
MISS: Justin Bieber Murder Plot Included Castration
According to multiple reports, two men were arrested on the suspicion of plotting to murder Justin Bieber. The two men were allegedly hired by a convicted murderer and rapist, 45-year-old Dean Martin, who wanted Bieber and his bodyguard strangled with a paisley tie and castrated. Martin is apparently incredibly infatuated with the pop star that he has a tattoo on his leg and has tried to contact him several times. After failing to hear back, Martin hired the two men but revealed the plot to the police before anything bad could happen. Talk about crazy! Probably not a bad idea to hire more bodyguards, right Biebs?
HIT: Jennifer Lawrence Named Most Desirable Woman of 2012
Hunger Games star Jennifer Lawrence tops this year's AskMen.com's "Top 99 Most Desirable Women" list, and while I hate that this list is on a website called Ask Men, I have to agree with them. Lawrence tops my own Girl Crush list. She's funny, incredibly talented (she's on her way to pick up another Oscar nod with Silver Linings Playbook) and just seems like so much fun in interviews.
MISS: Taylor Swift and Harry Styles are a "Thing"
After seeing photos of that dirty dancing lift, I'm just going to call it and say that Taylor Swift and Harry Styles are definitely a "thing." I refrain myself from calling it a relationship because it's Swift and Styles we're talking about people! I wouldn't worry too much, One Directioners; it won't last long. Also, if it's any consolation, Ryan Gosling and Emma Stone did it better.
HIT: Drew Barrymore and Baby Olive on the Cover of People
Drew Barrymore and the newest addition to the legendary Barrymore family, Olive, are on the cover of People magazine. I really have nothing else but, d'aw! Baby! Why are you so cute and adorable?
MISS: Anne Hathaway Flashes Photogs
Oh, dear. It seems like our beloved Anne Hathaway, a.k.a. Mia Thermopolis, wasn't very princess-y during the New York Les Misérables premiere. Photogs caught onto the actress' secret on how to avoid panty lines while wearing a tight Tom Ford dress while she was getting out of the car. Sorry Hathaway but,
(Thanks, Rider Strong for reminding me.)