By Jill Krajewski
There's no question Drake has made Canada infinitely cooler with his smooth rhymes and slick fashion sense. Turns out, he always had that swagger.
He had a baby fro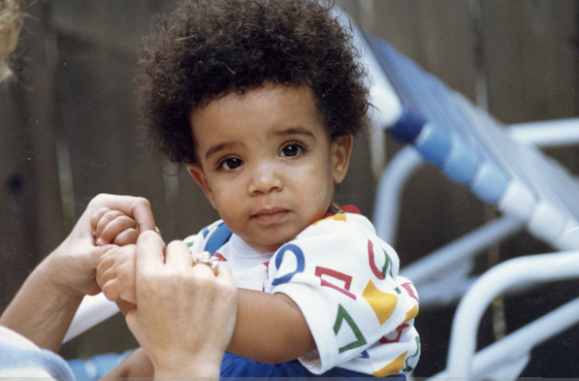 Aubrey Drake Graham was born in 1986 in Toronto. His family is just as musical as he is: his dad played drums and both uncles rocked the guitar.
Smiles for miles
Drake has been working the camera with his trademark grin since he was around two. He even used a picture from this sesh on the cover of his Born Successful mixtape in 2009. 
Sk8ter Boi
Drake grew up playing right wing for the Weston Red Wings. "I'm a big Leafs fan and Toronto's a great hockey city," he told ESPN in 2010.
Best. Yearbook. Ever.
Drake posted this amazing shot of his grade eight grad yearbook photo on his blog. Even though it was way back in 1999, his 13-year-old dreams weren't that far off from where he is today. Well, minus the breakdancing and marriage parts.
His first rap on TV
Drake's first break came on Degrassi when he was 15. He played basketball star Jimmy Brooks from 2001 to 2008. As awesome as watching teenage Drake is, we're guessing he didn't write this one (sample lyric: "shut up and make my lunch").
He rehearsed for red carpet interviews
On MTV's "When I Was 17," Drizzy takes us back to 2003 when he first got his swagger, was obsessed with eBay, and practiced being interviewed in case he hit the big time.
Take Care
Now that the Take Care rapper has sold five million albums, started his own music festival and racked up dozens of awards, it's safe to say Drake will keep making "Headlines" for years to come.