Selena Gomez
Who: It took 20 minutes for Selena Gomez to get this tattoo of the Roman numerals LXXVI (number 76) by New York's Bang Bang.
Meaning: The tattoo is in tribute to a family member who means a lot to her.
Demi Lovato
Who: Demi Lovato has over 10 tattoos, depending on how you count them. She got these tattoos that read "Let go & let god" across her feet.
Meaning: According to US Magazine Demi Lovato has admitted she regrets getting a few tattoos from her younger years. A lot of Demi's more recent tattoos are spiritual, including the tatts on her feet and the word "faith" on her left arm, below her elbow.
Harry Styles
Who: One Direction's Harry Styles has a helluva lot of new tattoos.
Meaning: There are just too many to go through in this one area. Among the singer's tattoos are his sister Gemma's name in Hebrew, a large black star, an iced gem and the words "Won't stop 'till we surrender." His newer tatts include masks representing comedy and drama, along with the initials "SMCL."
Rihanna
Who: Rihanna got this tatt of the Egyptian goddess Isis in London's SOHO neighbourhood just before her 2012 Paralympics Closing Ceremony performance with Coldplay.
Meaning: Isis was the "ideal mother and wife as well as the patron of nature and magic." She wrote on Twitter that the tattoo is dedicated to her late grandmother: "Goddess Isis- Complete Woman – Model for future generations- #GRANGRANDOLLY – always in and on my heart #1love."
Justin Bieber
Who: Justin Bieber got a crown tattoo in September 2012 on his collarbone.
Meaning: The tattoo is meant to pay tribute to Michael Jackson, who Bieber has drawn a lot of inspiration form.
Cher Lloyd
Who: Cher Lloyd revealed a stick figure tattoo at the Brit Awards in February 2012.
Meaning: The tattoo is meant to symbolize her love for new fiance, hairstylist Craig Monk. She said: "It's ­definitely love. We got matching tattoos – I've got a stick man and he's got a lady one." D'aw.
Miley Cyrus
Who: Miley Cyrus has 16 tattoos and counting. She was recently photographed with the word "Bad" on her finger, but we can't confirm if it's real. One of her newer tattoos is a handwritten Theodore Roosevelt quote.
Meaning: The tattoo reads "so that his place shall never be with those cold and timid souls who neither know victory nor defeat." The quote is from former President Roosevelt's "Citizenship in a Republic" speech given in Paris in 1910. She likely got it as a reminder to never live in fear of failure.
Chris Brown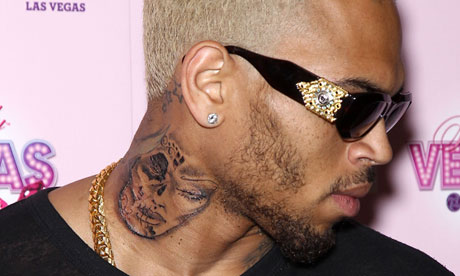 Who: Chris Brown revealed a controversial tattoo in September that looks like the face of a battered woman. Many speculated it was Rihanna.
Meaning: According to the singer's rep, the tattoo is ACTUALLY a skull meant to commemorate the Mexican Day of the Dead. Likely story.
Katy Perry
 Who: Katy Perry got a lotus tattoo on her right wrist in January 2012.
Meaning: We'll have to keep waiting! She hasn't spoken to the press about her new ink, though it's reportedly meant to symbolize a "new beginning" after her divorce from Russell Brand. This is one of the few tattoos she didn't share on Twitter, which means it's probably especially important.
Lady Gaga
Who: Lady Gaga shaved the back of her head and got a tattoo live on stage during a show in NYC to promote her new fragrance "Fame."
Meaning: Gaga shaved her head in honour of photographer Terry Richardson's late mother. The permanent tattoo of the cherub with angel wings on the other hand, was a promo. According to the Daily Record, Gaga started the show by getting inside a perfume bottle and pretending to sleep for two hours while fans were invited to touch her hand. After that, she preened herself in front of a mirror and got the tattoo applied.
FAKE! Romeo Beckham
Who: Romeo Beckham was spotted with a neck tattoo that resembles his father David Beckham's. He's 10-years-old!!! Don't worry, it is fake.
Meaning: The tattoo says "Harper" for his little sis.