TREND: Printed Leggings
INSPIRATION: Lana Del Rey for H&M
The cold may be settling in but I don't feel ready for full on pants just yet. I also happen to be one of those people who abide by the Blair Waldorf "leggings are not pants" rule, but printed leggings are tempting me to break it. They're fun, they're flirty and they're definitely bold, everything I look for in a statement piece. Simplicity is key when styling these pants — you don't want people to go blind when your prints clash. Try solid colour t-shirts and oversized sweaters. For the nerds out there, the label Black Milk also makes TARDIS police box leggings and galaxy print leggings. See? Breaking the rules can be fun!
TREND: Head Scarves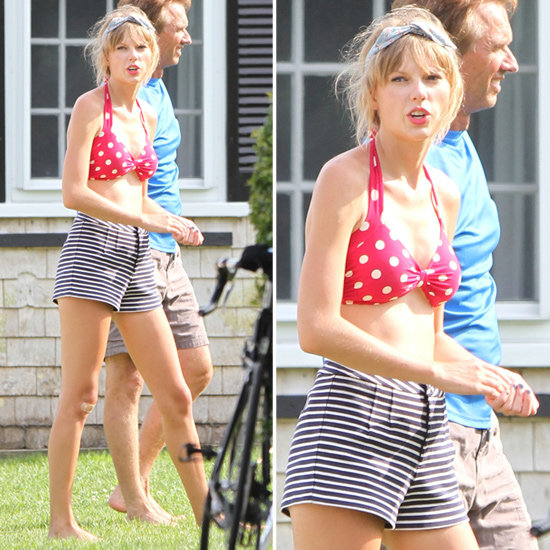 INSPIRATION: Taylor Swift
While this Taylor Swift photo may be from the summer (sniff, I miss it already), it doesn't mean you can't rock it in the fall. Head scarves are an easy way to mix up your look and save you from a bad hair day. If you're stuck wearing a school uniform 5 days a week, a head scarf with a playful print can add some life to the boring outfit. For those who are a little more daring, take a cue from celebs like Kourtney Kardashian and Eva Mendes and rock the full-on turban. It's old Hollywood turned modern.
WTF: Bagel Heads
Thanks to Vice, I can't sleep because all I can dream about is bagel-headed people. I'm sure they're nice people in real life, but in my dreams they're chasing after me with a needle. I don't like needles, nor do I want a bagel on my head.
No, I'm not talking crazy, it's a thing in Japan, but it is not cute in a Gwen-Stefani-kawai kind of way. Instead, it's an extreme form of body modification where saline is injected into your forehead and as a result, a bubble forms. To make the bagel shape, all one needs to do is push down in the middle of the forehead. The saline infusion process takes about two hours and is temporary. The body absorbs the saline and the bagel disappears for the next morning. I mean, what ever floats your boat but as someone who hates needles, I think I'll pass on this trend.