In the world of celebrity news, there's no shortage of hits and misses. This week, Daniel Radcliffe parties like he's Bill Murray and Kanye West made a few sex tapes.
HIT: Daniel Radcliffe parties with an Irish soccer team like a boss
Daniel Radcliffe pulled a Bill Murray and thus, making him "Awesome Person of the Week." Apparently, Radcliffe was walking around Dublin, Ireland at 4 a.m. when he ran into Dublin's minor Gaelic Football team. The team just came off of winning the All Ireland title and they invited Radcliffe to join in on the festivities. Radcliffe hung out with their team at a house party for two hours and was even drinking out of their trophy. Now I can truly say I want to party like a wizard.
MISS: Kanye West might have two sex tapes floating around
TMZ is reporting that not one, but TWO, sex tapes with Kanye are being shopped around. Apparently, one of the ladies Kanye was with looks like Kim Kardashian. Obviously, that revelation has sparked rumours that it is Kim in the videos and was filmed while she was supposedly still with Kris Humphries. Ew! Why? This is just another piece of Kanye-Kim info I did not need to know. Ever.
HIT: Lil' Wayne opens skate park in New Orleans
When he's not making weird depositions in court, Lil' Wayne can often be found skating. It would only make sense for Lil' Wayne to have his own skatepark. Instead of making one in his own backyard, the rapper decided to open a public skatepark in his hometown of New Orleans. His Trukstop park was constructed within a building that survived Hurricane Katrina and will be opened to the public seven days a week. Thanks to Wayne, the skate-obsessed youths of New Orleans now have a new place to skate without risking running into the cops.
MISS: Green Day's Billie Joe Armstrong checks into rehab after Bieber flip-out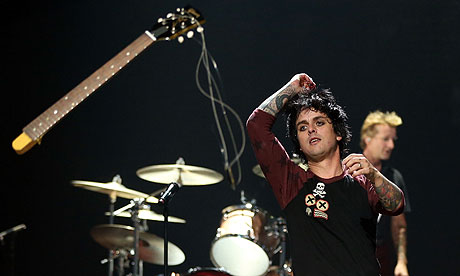 Green Day front-man Billie Joe Armstrong had a bit of a freak out at a iHeartRadio Music festival in Las Vegas last week. Armstrong was given the one-minute warning mark which prompted him to start a expletive-laced tirade, including, "What the f*ck! I'm not f*cking Justin Bieber, you mother*ckers." Apparently, he was drinking a lot before Green Day's set and has since checked into a rehab facility as of Sunday. Hopefully Armstrong can conquer living with his addiction. We'd all like to hear some more Green Day.
HIT: photos of an 18-year-old Victoria Beckham surface
Photos of a pre-Spice Girls Victoria Beckham have been making its round on the internet and holy hell, does she look good! Beckham obviously doesn't have the modeling skills she has now, but she still looks really cute. With both mom and dad's good looks, the photos cement the fact that little baby Harper Beckham will be quite a stunner when she grows up.
MISS: Paris Hilton was caught on tape making ignorant comments
Paris Hilton might as well pretend she's filming The Simple Life 24/7 because she keeps getting caught doing stupid things. This time, a cab driver taped Hilton saying some pretty ignorant things about gay men. The heiress was with an openly gay model who was trying to explain Grindr, an app gay men use to find hook-ups. "Ewww. Eww. To get fucked?," she was taped saying. "Gay guys are the horniest people in the world… They're disgusting. Dude, most of them probably have AIDS." While she's since released an apology, I haven't taken anything she's done seriously since episode one of The Simple Life.