Living away from home for the first time can be scary. What's even scarier is thinking about all the stuff you need to get through the year. Unfortunately for you, all that stuff may not  fit neatly in your new shoebox sized dorm room. Here are some tips and tricks to help you find unconventional storage space and to stay organize throughout the year.
1. Get rid of what you don't need
The best way to stay on top of mess is to routinely get rid of things you don't need anymore, especially when it comes to clothes. While packing for school, think about the last time you wore that shirt/pant/sweater or used that metallic gel pen. If you haven't wore/used it in six months, it's time to donate it or throw it out. Don't worry about going to school without enough stuff — you'll find yourself buying what you really need over time. Is there something you don't need anymore, like summer clothes? Pack it up for the next time you go home. Trust me, at the end of the year, you'll be surprised at all the stuff you've managed to accumulate.
2. Maximize your small space
Let's face it: dorm rooms are not as big as the ones on TV. They get even smaller when you have a roommate to share the space with. The best way to stay tidy is to use every nook and cranny you can find. Take your bed for example. You can easily find a slim plastic storage box to slide under there. Use it to store linens, extra paper, non-seasonal clothes to bring back home, etc. If there isn't enough space between your bed and the floor, look for bed risers to create that space.
3. Wall space is also valuable storage space
While most dorms won't let you poke holes in their walls to hang things up, you can always use those super strong adhesives to attach hooks to your walls. Use them to hang your jacket, purses and book bags.
You can also use those adhesive strips to hang your very own magnetic make-up board. It's perfect when drawer space is hard to come by and let's you easily find whatever make-up tool you're looking for.
4. Keep your wires organized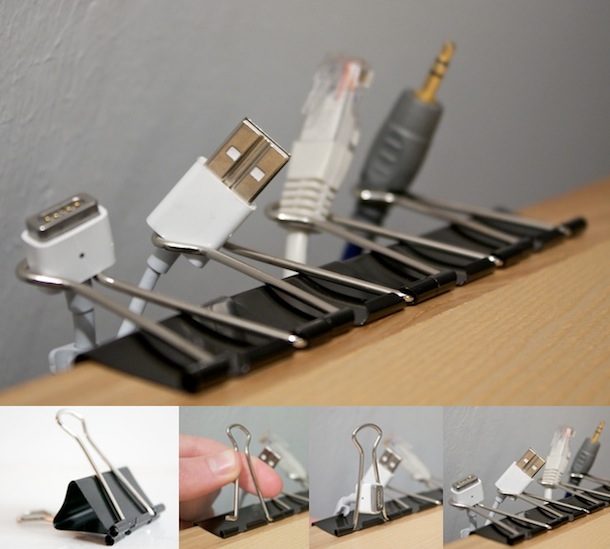 If you have five different electronic devices, you know that wire-clutter on the desk is unavoidable. You can easily manage the mess by attaching large spring paper clips to the end of your desk and threading your wires through. The narrow end of the clip should prevent your usb cords from slipping through. Don't forget to label your clips to easily find the cord you're looking for. For all other wires (USB, firewire cables, etc.) store them in a box.
5. Make sure everything has its own place in your drawer
Pens, pencils and white-out are easily lost in a messy drawer so make sure everything has its place. Use a drawer organizer to keep drawers neat and tidy. If you can't find a drawer organizer that fits, buy individual trays at the dollar store and arrange as needed. You can also use this idea to organize your accessories/jewelry drawer. Opt for kitschy bowls from the flea market instead of the trays to keep your rings and earrings separate.
6. label, label, label
You may have all your things neatly organized in boxes but it's always a pain when you have to open every box to find what you're looking for. Label every bin and storage box to help you easily locate what you need.
7. Keep work organized in trays
If you're like me, you probably leave all your papers on your desk in piles. While those piles make sense at the time, they quickly grow out of hand. The best way to cope with this problem is to sort your piles into desk trays with one subject reserved for one tray. Routinely go through your trays and see what you'd prefer to have in your binder.