By Sophall Duch
One Direction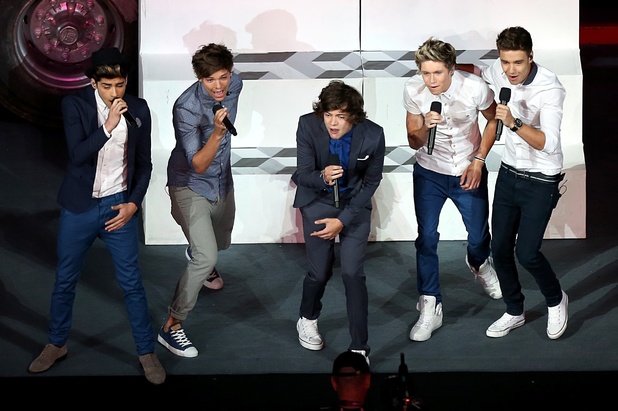 What they're wearing: The quintet performed at the London Olympic closing ceremony dressed in very dapper casualwear. What you see is an array of slim-fit chinos, crisp button-ups, converse sneakers, tailored jackets, and of course Zayn's fedora.
Why we love it: The band coordinated their looks in a cool and neutral colour scheme, which consisted of blues, greys, and whites. This way, they each maintained their own respective styles while looking like a cohesive group. (Hence no real outstanding favourite!) Together, the looks are the perfect balance of dressed-up and relaxed cool, which makes sense for such an important occasion (I'm looking at you hoodie-wearing Ed Sheeren!). While the Olympics are an important international event, the closing ceremony is essentially a big farewell party.
Takeaway You can essentially wear any of these looks for day or night. Well, perhaps not Harry's suit, but a well-tailored suit is still a must-have regardless! Sidenote: last week I talked about untucked shirts — well untucked shirts become hipper with a buttoned collar button.
Mel C (aka Sporty Spice)
What she's wearing: Sporty Spice joined the other Spice Girls in a custom JD Sports jumpsuit at the 2012 London Olympic closing ceremony.
Why we love it: While One Direction coordinated their looks, we knew the Spice Girls were gonna give us a major fashion show. How can they not with fashion icon Victoria Beckham (aka Posh Spice) in the mix? I know picking a single Spice Girl as best dressed is controversial because everyone has their favourite Spice Girl. But when it comes down to it, Melanie C. was a total standout amongst the other ladies and yet stayed true to her Sporty Spice style in this white jumpsuit. The outfit has a killer silhouette, is embellished with a sparkly rhinestone belt, has slits in the side to show off some skin, and is accessorized with silver high-heeled sneakers that any serious sneaker-lover would die for.
Takeaway: While the silhouette might be a little much for everyday, try rocking a flare jean and pant to change things up. The skinny leg has become the standard silhouette for pants and jeans but going with a flare or a wide-leg trouser will make you look fashion forward (major upcoming trend!) and will flatter most body types.
Silver goes to: Mel B/Scary Spice gets points for wearing a risqué glittery beaded catsuit by Zuhair Murad. Bronze to Emma/Baby Spice for wearing a modern architectural neon pink Maggie Cook dress. A good job but I expected more from Posh in her black Giles Deacon mullet gown and Geri/Ginger Spice in her strapless red mini and ruffled Union Jack by Suzanne Neville.
Robert Pattinson
What he's wearing: The English actor wore a steel blue Gucci suit to the premiere of his new movie Cosmopolis in New York City.
Why we love it: Despite all the personal drama going on his life right now, Pattinson had us feeling blue in a good way. The varying shades of blue keeps this look cool and sophisticated. Although it's a small detail, the textured black tie gives it that something extra. BTW sometimes suits tend to look the same so it's actually all in the details and cut. The leather lace-ups keep things polished. R-Patz is also giving One Direction's Zayn a run for his money with that loose and casual bouffant of his.
Takeaway: Monochromatic outfits (those in varying shades of one colour) can be tricky but quite remarkable if pulled off correctly. Try staying within a shade range so that the colour transitions from one shade to the next, without jumping from one extreme to another. Also note that two-button jackets are flattering for most-guys and are on-trend.
Jordin Sparks
What she's wearing: The Sparkle star showed up to The Today Show in this pink and purple floral ensemble in NYC.
Why we love it: Floral is a big trend for Spring/Summer 2012 but Jordin's dress is more like an optical illusion taking the floral pattern to the next level. The graphic print makes this dress modern and takes your eyes on a journey. (This ain't your momma's floral!) The pattern also shows off Spark's fit bod and the petals hit all the right spots to show off her amazing curves. Add a little fuschia-dipped hair and you got yourself a cool and chic summer look.
Takeaway: Abstract graphics can make a bold statement and turn a simple dress into a head-turner. Don't limit yourself to dresses but try abstract graphic print t-shirts, sweaters, or even shoes!
Kiernan Shipka
What she's wearing: The Mad Men star was spotted wearing Miu Miu at an Elle Magazine party in West Hollywood.
Why we love it: It seems like Shipka can do no wrong! While she may be attending a glitzy Hollywood party, we can see this as a perfect back-to-school outfit for any young fashionista. We love the embellished Peter Pan collar on the sleeveless white blouse and the bow detail at the front of her pale pink skirt. The skirt is a cool hybrid between a bubble and a pleated skirt. This balance keeps the look on trend while still being light and airy. It's perfect for summer!
Takeaway: Pleated skirts can be any length, but just make sure the length of the skirt is in balance with whatever top you pair with it. Although bold colours are usually a go-to for summer, pastels are always good to bust out in summer too — they're not just for spring.