Every week ANDPOP columnist Kelly Burns narrows down the most bizarre stories of the week. They're not exactly newsworthy but just weird enough to grab our attention. This week, China's dealing with a stolen penis and someone wants to — wait for it — see Nickelback. 
Who wants to see Nickelback?
I don't know what's more embarrassing, the fact this guy fell 40-feet into a gorge or the fact that the reason he fell was because he was trying to sneak into a Nickelback concert. Kevin Beaudette apparently really wanted to see Nickelback last Tuesday, when they played at New York's Saratoga Performing Arts Center. Falling 40-feet into the Geyser Brook Gorge, and only having a few cuts and scrapes is impressive. But the emotional scars that are going to follow him now, couldn't be any bigger. He will forever be known as "that guy" who tried to see NICKELBACK. Automatic douche-bag status. Keep rockin' that spiked hair, studded belt and awesome music… not.
Kim Kardashian can smell cavities 
A couple years ago Kim Kardashian went on Jimmy Kimmel and took a quick whiff of his breath to see if he had any cavities.  "I have a weird sixth sense — I can smell whenever someone has a cavity. If someone has a conversation with me, I can smell it," she insisted. Last night on Keeping Up With the Kardashians (What? I don't watch that) Kim was positive Khloe's hubby the Candy Man Lamar needed a few fillings. And it turns out she was completely right. But if she has such a good sense of smell, what's up with that fragrance of hers? Ouch! Just joking people, it was an easy shot.
Someone stole this man's penis!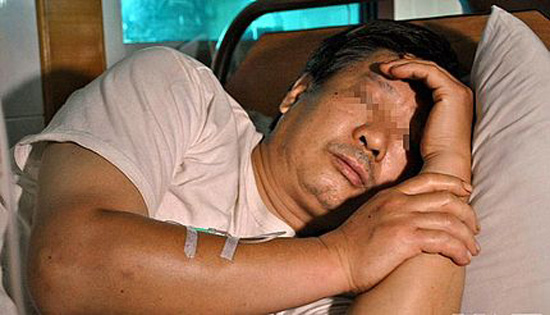 While sleeping at his home in East China, Fei Lin, 41, had some unexpected visitors. Some men burst into his home, put a bag over his head, pulled down his pants, and removed his penis.
"I was so shocked, I didn't feel a thing. Then I saw I was bleeding, and my penis was gone," Lin said.
I just feel so bad for this guy, imagine putting up the lost posters? Have you seen this Penis?
But, Where's Jesus?
If you want to relax in your hotel room and casually read the Bible, you will be sorely disappointed. At least if you're staying at the Damson Dene Hotel in Windermere in England. The hotel manager decided to swap the bible for Fifty Shades of Grey by EL James. The decision is creating quite a frenzy in religious communities, but honestly, who reads the bible on vacation? Let's unwind with some Fifty Shades of Kinky.
@kelly_burns