In the world of celebrity news, there's no shortage of hits and misses. This week, Christian Bale visits the survivors of the Colorado shooting, and LMFAO is accused of firing a bikini girl for being big boned.
HIT: Christian Bale visits the Colorado theatre shooting memorial and meets the survivors
The Batman star and his wife visited the Aurora, Colorado hospital where seven survivors are being treated for their injuries after the mass shooting during a screening of The Dark Knight Rises. He asked staff beforehand not to notify the media as he wasn't there to represent the studio, but instead, himself. Bale reportedly spent two and a half hours at the hospital and also paid a visit to the memorial near the movie theater. It's nice to see that he went beyond his duty as the star of the franchise, by answering the pleas of the Facebook campaign asking him to visit. He became a real hero to all Batman fans. We can now add Bale to the list of "celebrities who are awesome."
MISS: Justin Bieber, Drake Bell Twitter drama
Former Nickelodeon star Drake Bell tweeted it was ridiculous for artists to have autobiographical films when they haven't been around for all that long, referring to Katy Perry. Later, he said his account had been hacked and he "… wouldn't randomly bash @katyperry….bieber however lol." Then things went CRAY. Fans tweeted the expected "you're just jealous" comments, but one also sent him a photo of a knife and he received threats of death by stoning. This is why you don't upset Beliebers people! They mean business.
HIT: Rupert Grint runs with the Olympic Torch
I hate watching sports on TV, but I love the Olympics. I also love all things British, and that includes Harry Potter. I was super stoked to see Rupert Grint run with the torch and it brought a happy, proud tear to my eye. Now, if the Olympic Committee has Doctor Who's David Tennant run with the torch like he did in one episode, I may just start bawling. Please higher beings, make it happen.
MISS: Kristen Stewart cheats on Robert Pattinson with her Snow White director

We've already reported on this already, but I just wanted to add my two cents. While director Rupert Sanders is the 41-year-old with the wife and kids, Stewart is going to be the one who'll have "homewrecker" attached to her name for a long time. Sanders, on the other hand, will probably walk away from this scotch free. Besides Tiger Woods, can you name a male star who's been treated in the way K-Stew has in the last 24-hours? No? So before we all make insane reaction videos, remember that a) it's not your life, and b) it takes two to tango, so don't blame it all on Stewart.
HIT: The Spice Girls scheduled to help close the Olympics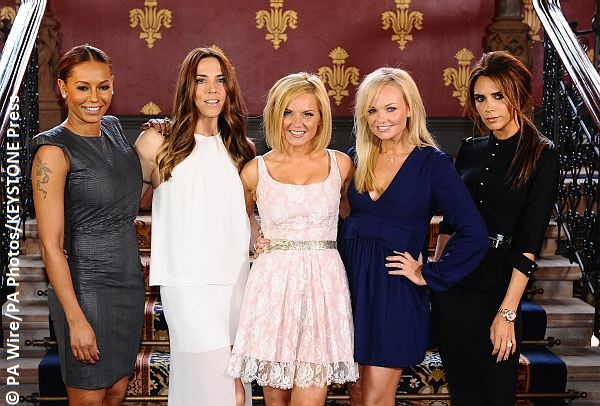 Can't you tell I'm really excited for the Olympics? I also love the Spice Girls. You best believe I'll be glued to the TV when they perform together for the first time since 2008 during the closing ceremonies. I'll also be singing at the top of my lungs when they do "Wannabe," rumoured to be one of the two songs they'll perform. Neighbours, you've been warned.
MISS: LMFAO fires bikini girl for being "big boned"

Before making it big, LMFAO hired then 21-year-old Stephanie Arakel to be their polka-dot bikini girl in 2009. Her job was to shake what her mama gave her on tour, but that all stopped when she sang during a remix of The Black Eyed Peas' "Boom Boom Pow." Apparently, RedFoo wasn't impressed with Arakel stealing the spotlight, and started criticizing her body. She received her walking papers two weeks later via e-mail. I'm just curious to know if RedFoo has looked in the mirror recently. He looks like Richard Simmons after falling into a 13-year-old girl's closet. Or, a real housewife of "insert area here." Take your pick.