In the world of celebrity news, there's no shortage of hits and misses. This week, Pharrell gets engaged and Lindsay Lohan walks around with a bald spot.
HIT: Pharrell Williams secretly engaged?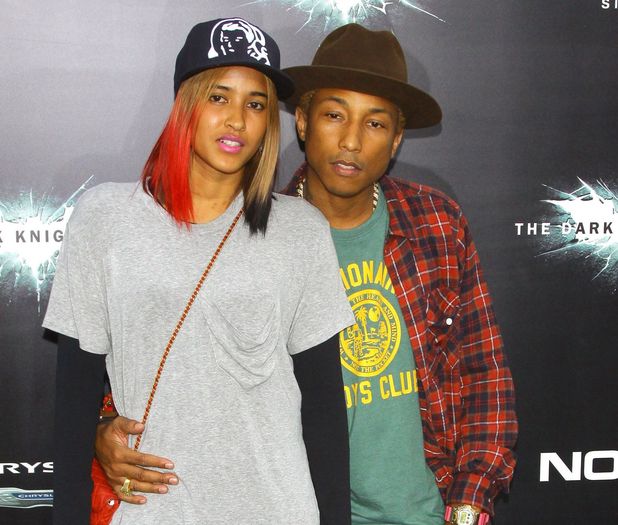 The producer has reportedly popped the question to model/designer girlfriend, Helen Ladichanh. The two were seen together at The Dark Knight Rises premiere and Helen had a ring on her finger. How long he and his fiancé have been engaged for has been widely speculated on and could be anywhere between a couple weeks to a year.The two already have a son named Rocket together. Pharrell hasn't said a word about it. If true, congratulations to the couple, and I will see everyone else in the Pharrell Williams Can Never Be Mine support group.
MISS: Rolling Stone reuses tagline for Bieber cover
The rock and roll magazine may be losing their creative spark as Bieber is "Hot, Ready and Legal," just like Lindsay Lohan was back in 2004. Obviously, being "hot, ready and legal" worked out in her favour. At least Lindsay looked her age while Bieber's cherub face doesn't really sell the tagline. They probably should've put a badass leather jacket around his shoulders instead of opting for the white tank.
HIT: Kim Kardashian shows off her best ugly cry on a rollercoaster
Kim's ability to show off her new relationship on every possible platform is a bit astonishing as Humphries continues to be bitter. While we may all be sick of overexposure status, we should at least give her credit for tweeting an unflattering photo of herself. Kim has her best ugly cry face on as she, sister Kylie and boyfriend Kanye ride Magic Mountain.
MISS: Kris Humphries tries to mock Kanye on Twitter
Soon after having signed a two-year deal with the Brooklyn Nets worth $24 million, Humphries couldn't help but make a jab at Kanye West using the rapper's own lyrics. Humphries tweeted, ""I'm up at Brooklyn! @S_C_ 'Lucky I didn't have Jay drop me from the team' lol!" Too bad he decided to tweet it at Sean Carter, a.k.a. Jay-Z, part-owner of the Nets and Kanye's best friend. It's probably not the best idea to make fun of your boss' best friend, and tweet it at him. We'll just see how Humphries fairs after two years if he doesn't get dropped or traded first.
HIT: Jason Segel and Michelle Williams spend the day with Matilda Ledger
The couple spent a Sunday with Michelle William's daughter by catching a Broadway show and a little shopping. The week before, Segel was spotted with the mini Ledger getting breakfast while Williams was at ComicCon promoting "Oz: the Great and Powerful." If I wanted a famous person to babysit my kid, I'd hope it's Segel. He'd be perfect as he sings and plays with puppets. I swear I will go down with this ship because Segel and Williams make hearts melt just by being together.
MISS: Lindsay Lohan walks around with a bald spot
Lohan was spotted leaving her hotel with a growing bald spot and exposed hair extensions. It was also reported that she had a sleepover party with Lady Gaga and Lana Del Rey earlier this week. Oh, Lindsay. I think her self-improvement days need to be fewer and far between, or at least better quality. She should probably get some advice from her slumber party friend Lana as her hair is fantastic.