In the world of celebrity news, there's no shortage of hits and misses. This week, Justin Bieber speeds down the highway in his chromed-out car, and Kourtney Kardashian has another baby.
MISS: Evan Rachel Wood filmed getting her nose pierce
Maybe it's because I'm a bit squeamish when it comes to stuff like this, but I didn't appreciate watching Evan Rachel Wood get her nose pierced. I don't understand why everyone has to document every little thing they do (omgz, I'm eating a sammich!!). In particular, a nose piercing is something I didn't really want to see come up on my dashboard, even if it's a famous person.
HIT: Kourtney Kardashian has a little girl
To continue with knowing too much about people I don't care about, Kourtney Kardashian had another baby! I know, it's a Kardashian, but BABY! Babies are cute, adorable and simply cannot be ignored. Named Penelope Scotland Disick, I'm sure she will be just as adorable as her older brother Mason. Now I'm trying to imagine what Aunt Kim's boyfriend, Kanye West, will be getting little Penelope. I'm thinking designer baby clothes made of pure gold.
MISS: Justin Bieber put other people in danger by speeding on the highway
According to TMZ, the popstar filed a harassment complaint against one paparazzi for driving aggressively after the pap chased Bieber down the highway. Bieber responded by going over 100 mph in his chromed-out car, causing 10 other drivers to call 911 on him. It's got to be annoying to dash paps all the time. While speeding is a no-no, their car chase was making a dangerous situation for JB too.
HIT: Ron Pearlman is a badass, dress up as Hellboy for a little kid
All little Zachary wanted to do was meet and become Hellboy. Thanks to the Make-A-Wish foundation, he was able to do just that. Actor Ron Pearlman met with Zachary after spending five hours in a make-up chair to become Hellboy once again. The special effects studio Spectral Motion also transformed Zachary into mini-Hellboy, fulling the second part of his wish. Pearlman can now join Johnny Depp in the "People who are Awesome" category.
HIT: Archie x Glee crossover
I love Archie comics, so it warms my heart to know they're still relevant, even if it means a Glee crossover. The Glee storyline will span a four-issue story arc and is due to be released late this year or early 2013. My guess is Archie falls for Quinn, putting both Veronica and Betty in a jealous rage.
MISS: Jesse Eisenberg can't grow facial hair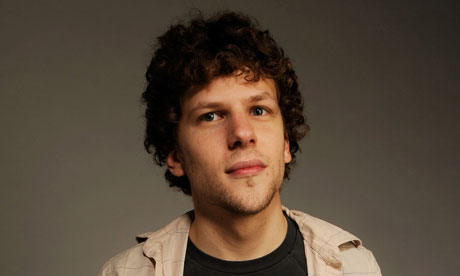 Jesse Eisenberg appeared in a PSA against the exotic pet trade (that's a total hit) with some suspect-looking "beard." While the Social Network star may be 11 years older than Bieber, they can grow just the same amount of facial hair, which is next to none. I'm really hoping its for an upcoming movie in which he plays a creep, because he's looking pretty suspect right about it. I also wonder how long it took him to grow it. My guess is a couple of months.