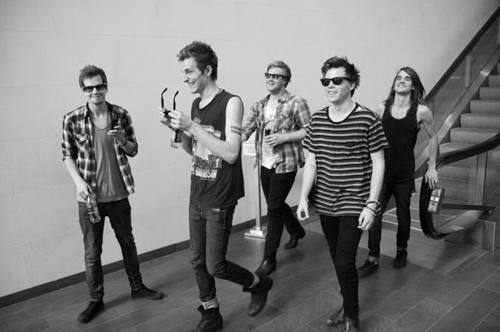 Victoria Abraham defines one up and coming artist each week so you can impress your friends with your musical brilliance. This week, she tackles The Maine, an indie punk band from Tempe, Arizona.
If you're missing some head-banging in your life, then you're probably musically compatible with The Maine. These guys have some serious stage presence and strong vocals. They recently wrapped up their North American Pioneer World Tour with Lydia and The Arkells. If their performance was anything like the one I saw in Saskatoon, then this band definitely owned the audience and stage.
Band Members: John O'Callaghan (Vocals),  Garrett Nickelsen (Bass), Pat Kirch (Drums), Kennedy Brock (Guitar, Vocals), Jared Monaco (Guitar)
Known for: This band is known for badass stage antics and strum-worthy guitar solos.
Used in a sentence: "They may be from the deserts of Arizona, but The Maine won't hang you out to dry."
Download now: Misery
Fun facts: This band has a thing for releasing books. In 2009, they released a book titled This is Real Life with photos by Dirk Mai and memoirs of their Warped Tour experience. In 2010, they released Black & White Keepsake Book, which also consists of photos and journal entries. John O'Callaghan also released a book a poetry with photos by Dirk Mai.
Timeline:
2006: The band is created.
2007: They sign with Fearless Records and release their debut EP, The Way We Talk.
2008: They release the first full-length album, Can't Stop, Won't Stop.
2009: They sign with Warner Bros. Records and perform on the Vans Warped Tour.
2010: They release their second full-length album, Black & White which won AP Magazine's Album of the Year award.
2011: They release their third album, Pioneer.
Notable lyrics:
The lyrics in "Misery" speak to John's personal experiences of pain and sadness.
Looking for misery, but she found me/Lying naked on the floor/I was headed insane, the devil told me his name/But he's not welcome here, anymore/Tell me what do you see (What do you see?)/When you're looking at me?/(When you look at me)/This sense of responsibility is killing me inside, yeah.