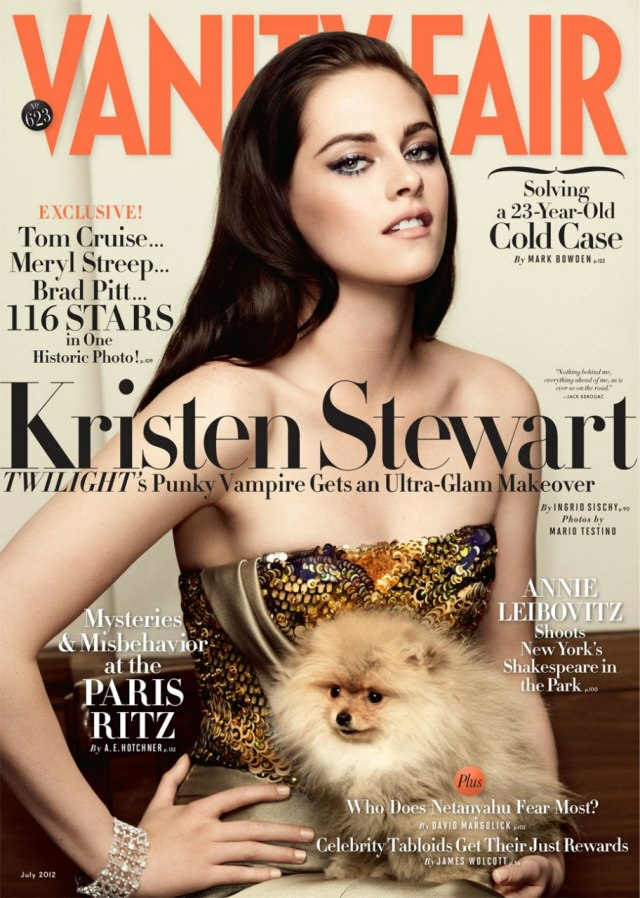 Kristen Stewart looks GORG on the July cover of Vanity Fair. She's one of the more awkward members of Young Hollywood but jeez, guys, she's just a regular person and I definitely appreciate that she doesn't fit the archetype. Give her a break.
K-Stew got to chill with Karl Lagerfeld AND photographer Mario Testino at the shoot in Paris like it's no big deal. "It was the first time I ever had an actual conversation with him. He's incredibly sweet. It felt like such an important moment in my life," she said about meeting Lagerfeld. "It was very cool."
Some of the couture looks are jaw-droppingly beautiful though I'd be afraid to walk around, lest it get a scuff mark.
Stewart, who's currently starring in Snow White and the Huntsman also revealed to VF how she was a total tomboy when she was younger.
"Look at a picture of me before I was 15. I am a boy," Stewart said. "I wore my brother's clothes, dude! Not like I cared that much, but I remember being made fun of because I wasn't wearing Juicy jeans."
Watch the behind the scenes video here: