So much HAWTNESS at the MTV Movie Awards last night. But I appreciate the misses too because at least those celebs are taking a fashion risk. Otherwise it's just plain boring, right?
Winners:
Peplum: Emma Stone & Charlize Theron 
Both Emma Stone and Charlize Theron pulled off peplum looks. Theron wins by a thread because her striking red Lanvin dress complements her skin tone perfectly and is a little more fun for the MTV Movie Awards. But Stone won the trailblazer award so you know whatever look she touches is golden.
Vintage-inspired T's: Wiz Khalifa
Wiz Khalifa wore a Joan Jett shirt (above) and sunglasses indoors because duh! I'm not sure if he's wearing the top ironically but I NEED. It looks comfortable plus he's paying respects to one of rock's legends.
Sneakers: Kristen Stewart
K-Stew always steals my heart because she manages to be fashionable without sacrificing her comfort or individuality. Some old school designers might cringe (Sacrebleu!) at the sight of her sneakers but personally I think she manages to pull them off. Of course, she didn't change into the sneakers until after the red carpet because her stylist would have died. Love the Guishem dress too.
Prints: Emma Watson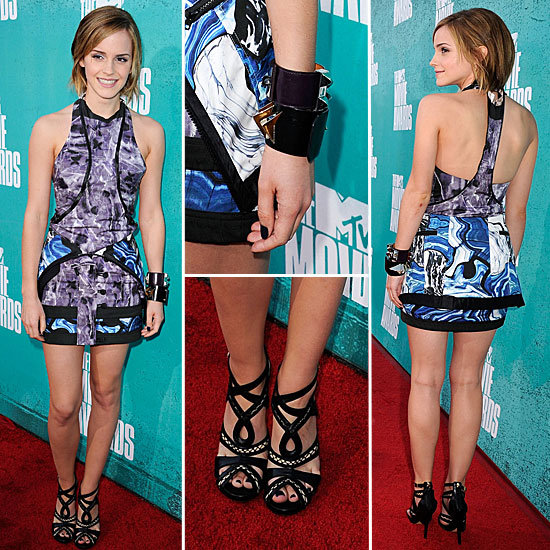 I adore anything Emma Watson wears because it's so classic. She rocked a printed dress from Brood's A/W '12 line and two heavy bangles. She went minimal with the accessories because the print speaks for itself.
Misses
Vest suit: Shailene Woodley
I love the girl but Shailene Woodley always dresses a little too maturely for her age (20), especially for an MTV event. She wore a Stella McCartney vest and dress pants and while I love the look, I wish she added more colour. I know there will be some that disagree but I do love the natural route she went with her makeup — it's a nice change from the caked on doll looks we often see.
MEN: Fedoras 
Don't hate me but I'm not a huge fan of fedoras. Maybe if you're a) on a beach somewhere and you want to block the sun or 2) if you have a 1950s charm. Still, host Russell Brand, Josh Hutcherson Wiz Khalifa and Johnny Depp all went for he look.