I know fashion is all about taking the risks but sometimes I can't help but wonder if certain celebrities own mirrors. Then again, it's Hollywood, home of the crazies for the crazies! I'm all for strange fashions but some celebrity trends can be a bit scary (pointy black nails) or a little flashy (mirrored-cars). I guess it's my job to keep you all in check and show you the top five worrisome trends in Hollywood. Proceed with caution.
1) Pointy black nails
Who: Rihanna, Lady Gaga
This beauty trend reminds me of The Wicked Witch of the West. Rihanna sported these black nails at the MET Gala on May 7 while wearing a Tom Ford black crocodile like skin dress. At least they can double as self defence weapons right?
2) Reflective cars 
Who: Justin Bieber, Scott Disick
Like celebrities need to draw more attention to themselves when they go out. Right? Recently, stars like Justin Bieber and Scott Disick have decided to wrap their already expensive cars with chrome. Justin turned his Audi R8 into a mirror on wheels while Kim Kardashian tweeted from her sister's baby daddies car "Who needs a mirror when I'm driving @scottdisick's car!?!" You just know it's a great trend when the Kardashians are also following it (did you get my sarcasm?).
3) Unbuttoned jeans
Who: Emma Roberts, Kristen Stewart
Coachella festival goers pulled out their cutoff jeans and midriff-baring tops. Emma Roberts and Kristen Stewart took it one step further and left the top buttons of their denim shorts undone. Someone please explain? Kay, thanks.
4) T-shirts worn as dresses
Who: Snooki
We're not talking about T-shirt dresses, which can be chic, we're talking about T-shirts that have been turned into dresses. Now that summer has finally rolled in we all know our favorite celebrity disasters will try and turn their favourite summer T-shirts into their favourite summer dresses. It's the same trend every year, unfortunately. Fingers crossed Snooki will either drop the trend this summer or buy a bigger size, considering she'll be sporting a baby bump.
5) Potentially edible clothing / fruit as clothing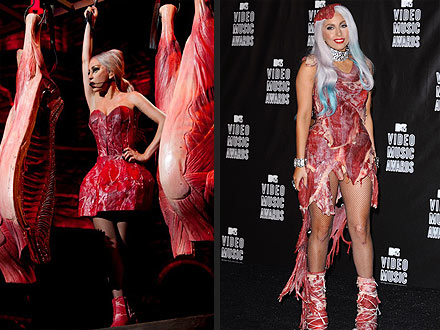 Who: Lady Gaga, Katy Perry
Lady Gaga and her meat dress are back. She sported a let's-just-hope-it-was-fake meat dress at her Born This Way Ball concert in Tokyo. Gaga tweeted a photo of herself surrounded by hopefully fake meat carcasses wearing the meat dress and shoes while performing her song "Americano." Okay I understand that real women love meat but didn't Gaga realize the first time that this was a fashion no no. Another trend? Fruit inspired jewelry and clothing are huge this year. I personally thought that trend was a little much but I was out ruled by designers such as Moschino & Stella McCartney! Katy Perry took a bit more of a theatrical approach.
---