In the world of celebrity news, there's no shortage of hits and misses. This week, Sarah Hyland gets personal in the latest Seventeen magazine and Lady Gaga wears another meat dress. 
HIT: Sara Hyland talks kidney transplant with Seventeen Magazine
Sarah Hyland, a.k.a. Mila Kunis Jr., plays Modern Family's Haley Dunphy so well, you'd think they're the same person — you'd never guess she suffers from kidney dysplasia. The young starlet has been suffering from the disease since she was nine-years old, and recently received a kidney from her own father. Hyland is the kind of person young girls should  look up to because of her strong work ethic and sense of self.
MISS: Justin Bieber apparently had a thing for Vanessa Hudgens, says an unreliable source
According to the National Inquirer, the two met on the set of Spring Breakers when the Biebs was visiting current fling Selena Gomez, and then yadda yadda yadda. Let's be honest here: trusting the National Inquirer as a reputable source of "news" is like trusting Bristol Palin to be the voice of reason when it comes to the sanctity of marriage. You've got to be certifiable crazy to be do either.
HIT: Someone FINALLY writes an accurate bio for Kim Kardashian's IMDb page
Kimmy K.'s cultural relevance boils down to her ass, a sex tape, and now Kanye West. So, it warms my black heart to see IMDb writer Jon C. Hopwood's brutally honest profile — or roast if you will — of the reality star. Here's a sample: "… Kardashian is possessed of [sic] photogenic good looks but is short of any other discernible talents outside of the bedroom." IMDb has taken it down since, but you can still read it in full here.
HIT: Magic Mike cast covers the latest Entertainment Weekly
I am not going to lie: I cheered in a theatre when the trailer for Magic Mike played. I'm ridiculously excited for this movie because it looks so bad. Just look at the plot: Channing Tatum is a stripper looking for more, and that more is customized furniture.  In addition, Matthew McConaughey designed his own "special pants" for the movie. Cheesy movie GOLD.
MISS: Lady Gaga wears another meat dress in Tokyo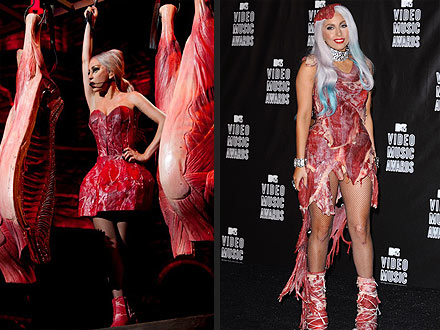 It seems that meat dress numero uno hasn't fazed Gaga, or she's beginning to recycle her ideas. I have no idea how she can stand it. The texture of meat against your skin and the smell of rotting animal carcass must be disgusting. Lady Gaga, you're all sorts of cray.
MISS: J.Lo rumoured to leave American Idol
Jennifer Lopez recently told Ellen Degeneres that she doesn't know if she could go for a third Idol season. The singing show has helped her in so many ways, considering she topped Forbes' Celebrity list this year. She plan to go on tour with Enrique Iglesias, release three movies in the next twelve months and at the same time, juggle motherhood, leaving little time for other projects. J.Lo: everyday she's hustling.