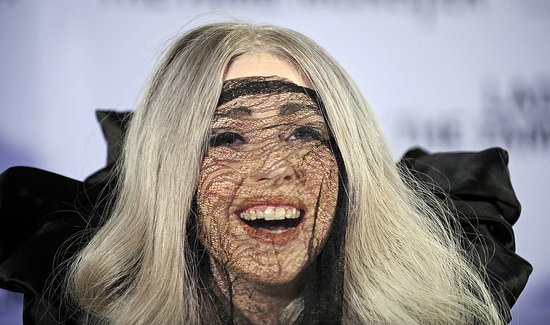 Lady Gaga's black veils are more than a fashion statement as the headgear is apparently her way of mourning the planet's suffering. The "Born This Way" singer shows her solidarity with those who aren't so blessed with the thin mesh.
Lady Gaga is literally a walking art piece and everything she wears has some profound and abstract meaning. I can't imagine waking up in the morning and thinking: do I want to evoke environmentalism or animal activism today? That's too much work for 7 am.
I know there are so many digs to make at Gaga for this but I actually appreciate her thoughtful sense of style — even if it's a little extreme. Gaga is rolling in cash so it's slightly hypocritical to think wearing a black veil contributes anything. At the same time it's not like she's doing nothing. Gaga started the Born This Way Foundation to empower young people.
In other news, Gaga's media vow of silence hasn't really done anything to limit the headlines.  [Source]
Check out some of her looks below: