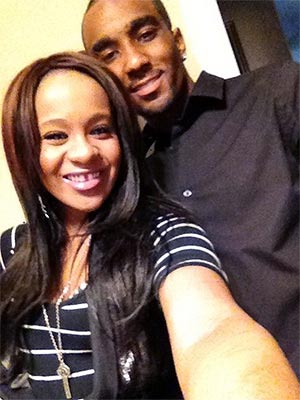 The relationship between Whitney Houston's daughter and the man raised by the singer as a son may be getting a lot more serious.
Just a little over a month after the "I Will Always Love You" singer passed away, daughter Bobbi Kristina Brown was spotted with a ring on her engagement finger following days of very public PDA with her boyfriend Nick Gordon.
According to People, a source tells them, "Yes, they are engaged, but the family is trying to coax her away from it."
Another source says, "Nick asked Krissi about a week ago to marry him" and that she's wearing a ring that once belonged to her mom.
However, the source doesn't know if Brown said yes.
Since information from "a source" never sounds very trustworthy, I'm not going to look into this too much.
It may seem a little odd for Bobbi Kristina to date her "adopted brother"  but she does have a right to date whoever she wants.
And plus, it's not like they're blood-related.